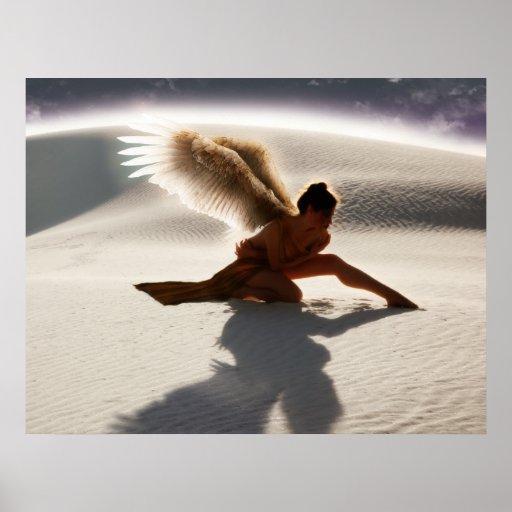 I saw a sea of sand that stretched for miles and miles. Some of it formed small hills or valleys but it was mostly very flat. Over the landscape I saw an angel flying close to the earth holding a sack. He reached into his sack and with his fingertip he pulled out a single drop of liquid gold and dropped it onto the ground like a seed. The drop was absorbed by the sand.
Then I looked again and there were multitudes of angels all flying around the same sandy sea all of them were reaching into their sacks and pulling out the droplets of gold and dropping them on the ground. It was a gentle smooth operation where none of them appeared to be hurried.
Then I saw a black and bluish cloud gathering on the horizon and a very large angel stood beside it holding what looked like a leash or harness. It was pulling back the cloud but the cloud was looking restless and ready to burst out any moment.
The sea of planting angels withdrew when they were finished and as soon as the sky over the sandy sea was cleared, the angel withholding the cloud let the cloud loose. It rushed out over the sand and spread out to cover the entire landscape and the sky became as black as night
Rain started to come down in torrents and splashed violently onto the ground.
As it did, little golden polka dots of light started shining out of the sand and began growing. As they grew they got bigger and started connecting to each other until there was only polka dots of sand left, but even those disappeared once the light got big enough. Then the light seemed to sprout like popcorn and ballooned into the sky pushing back the rain and the cloud until a beautiful blue sky appeared again but this time the light was coming from the gold mass instead of from the sun.