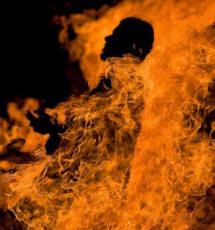 Today you sit in a chair, paralyzed from the neck down. Your arms and legs are bound by flames to the chair and there are flames all around you.
The chair sits in the middle of a pathway surrounded by flames but the path is clear. Just in front of you a white glowing warrior stands leaning on a long blazing sword which itself is made of fire but much whiter and hotter than the flames all around you.
He speaks and water shoots out of his mouth and shoots directly into your heart. It brings a massive jolt of incredible relief and refreshment and you suddenly have white fire reflecting in your own eyes. His words do not make sense to your mind but your body is completely energized by them. He continues to speak until you are fully excited and ready to break free. But he stops then and asks you in English – "Are you ready to repent?"
For a brief moment, all the relief and refreshment stops. You feel the pain of no energy and see the flames locking you in your chair. There is no question you hate where you are sitting, but it is a comfortable dullness. To repent as the glowing warrior asks, means moving into the dangerous unknown. Your thoughts return to the sensations you just experienced by the living water and you reply with a loud "YES!"
The warrior doesn't speak, but moves around behind you. You watch from the sides of your eyes as you twist your neck, and see the warrior lift the long white sword. With a mighty chop straight down behind you, something severs. There is a painful and enormous jolt of electricity shooting in through your back and radiating to your every nerve. The pain is sudden, sharp and short-lived. Then your body returns to a feeling of normal… there is no more pain, no more discomfort and no sensation of hyperactive energy levels either. The glowing warrior returns to stand in front of you and waits.
You look around. Flames still lock your wrists and ankles in the chair. You look up and ask the warrior why you are still locked in. He replies "Your life is yours to live. Whether the flames threaten to lock you in your chair or I offer you the power of release, the choice remains yours to speak to your circumstance and subdue your realm."
You sit for a moment thinking about these words and then utter a command: "I WILL LIVE AND NOT DIE!" At the same time you lunge forward trying to break free of the flaming restraints.
Instantly there is sunlight shining everywhere. The flames are completely gone, and nothing is burned or even smells like smoke. You find yourself standing in front of the chair and the angel before you smiles, turns to walk away calling over his shoulder… "Good, now let's get to work on your destiny."